Riplock Seals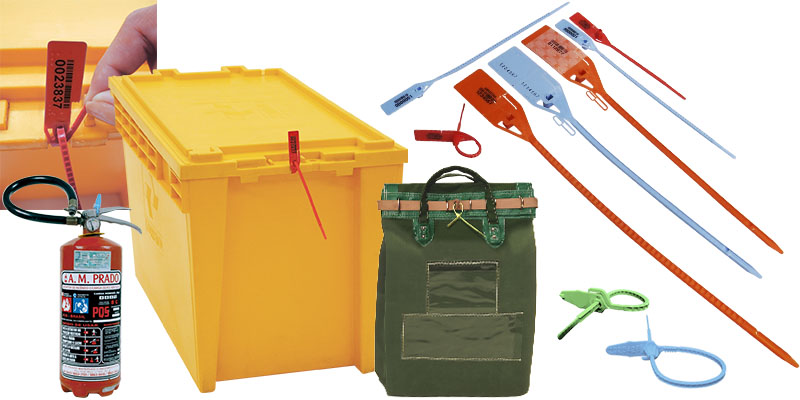 MANUAL OPENING, NO CUTTING TOOLS NEEDED
IML BARCODE
TEAR-OFF RECEIPT
---
Wherever quick, yet secure seals are needed, RIPLOCK seals have been selected as the favorite seal for the Banking, Mailing and Airline Industries, among others. Thanks to its tool-less easy-removal feature, the RIPLOCK does not require any cutting tools to be opened. Numbering available in hot-stamping, high-relief and In Mold Label printed barcodes with check digit. The RIPLOCK truly represents the state-of-the-art technology for pull tight security seals. The in-mold-labeling (IML) barcode numbering, with check digit, eliminates all chances of transcription errors.
Riplock Security Seals
---
RIPLOCK seals feature only one piece, adjustable tightening, in 4 lengths according to the client's needs. The opening is manual, without any tools or effort, due to its exclusive plastic stub – you just have to pull it. Riplock seals are available in mats of 10 interconnected units (C1, C2 and C4 models) or 8 units (C3 model). Tear-off receipt is available for Riplock C3 and C4 seals.
Riplock with Inkjet Code.
Plastic Seal, with personalization and code in Inkjet, directly on the seal, both on the same side.
Riplock Seal with code in "Hot Stamp" (NH).
Plastic seal with code and personalization in hot stamp on it
Riplock Seals with High Relief Code (N).
High relief personalization molded at the moment of the injection and 7 digit code.
Riplock IML Transfer Seals (with "In Mold Label" Code).
Identification is In Mold Label on the seal, at the moment of injection.
Ordering
---
SPECIFICATION