Cap'n Lock Seals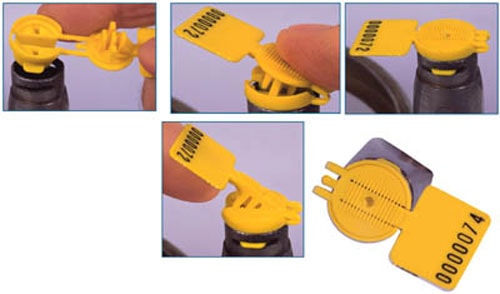 RECYCLABLE LEAD FREE SEAL
QUICK ONE HAND APPLICATION
DOUBLE FUNCTION: SEALING AND CAPPING
---
Cap'n Lock is the latest in security seals available to utilities today. The main advantages of the new Cap'n Lock seal lies in its ability to do two jobs in one; easy sealing and capping of the meter. This state-of-art design offers a perfect replacement to the current sealing procedure used. The new one-piece, one hand installation provides optimum solution in hard to reach areas. Cap'n Lock patented design will definitely guarantee the inviolability of the seal.
Applications:
Electricity and gas meters
Features:
Combined sealing and capping

Seven digits hot stamped

One hand application

100% recyclable
Cap' n Lock Seals are made in polypropylene and offered in mats of 8 seals.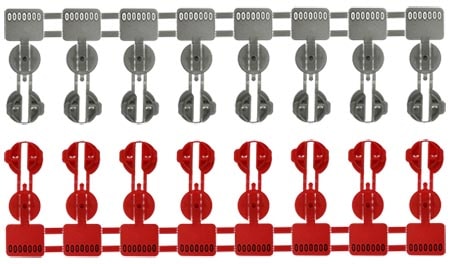 Ordering
---
STANDARD ORDER
Quantity: Up to 10,000 seals.
Colors: Blue, red, yellow and orange (BL, RD, GR, OR).
Personalization: Logo and/or lettering in hot stamp.
Numbering: Unduplicated serial numbers with 7 alphanumeric digits in hot stamp.
SPECIAL ORDER
Quantity: Order of 10,000 or more seals.
Colors: Dark blue, gray, black, yellow, white, brown and standard colors (DB, GY, BK, YL, WH, BR, BL, RD, GR, OR).
Numbering: Please, consult us on packaging indicating the numeric sequence of seals.