Sentrinel Tapes and Labels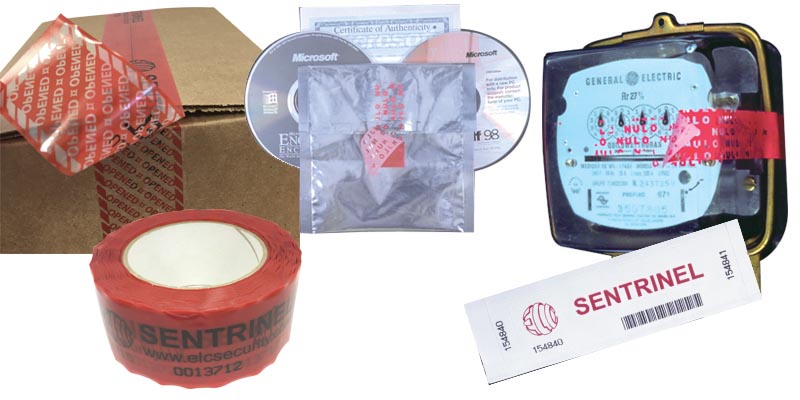 INEXPPENSIVE
EASY TO HANDLE
UNIVERSAL APPLICATION
---
These seals were especially produced for situations when high resistance is required. The bolt seals can withstand very low and high temperatures, such as -40ºC or 110ºC and severe environmental conditions. They can be personalized with letters or logo and laser marked numbering.
Application:
Safety and Emission Decals arning Seals

Asset Tracking and Identification Labels

Sterilization and Testing kit Seals

Sealing Boxes

Automated Teller Cash Cassetes
Features:
Custom Adhesive Formulations

Tamper Evidence with VOID or Custom message

Serial Numbering for Control and Traceability

Fluorescent Pigments for Verification of Authenticity

Custom Colors Available
Tamper Evident Sentrinel Label
---
Tinted, chemically-treated, polyethylene film, acrylic-based pressure-sensitive adhesive. Red is the standard color. Outer surface receptive to most imprinting systems. Internally, our standard line presents the words VOID and/or Opened, and its minimum durability is one (1) year. Tear-off receipt to eliminate possible transcription errors.
Tamper Evident Sentrinel Tape
---
Tamper Evident SENTRINEL Tape 50.8mm x 55 meters (2" x 180') red base, white tint, BLACK SUB-SURFACE TEXT. Numbers and perforations every 9", soft, high tack rubber based adhesive.
- Tamper Evident Tape measures 50.8mm x 55 meters (2" x 180') red base, with sequential serial-numbers and perforations every 9".